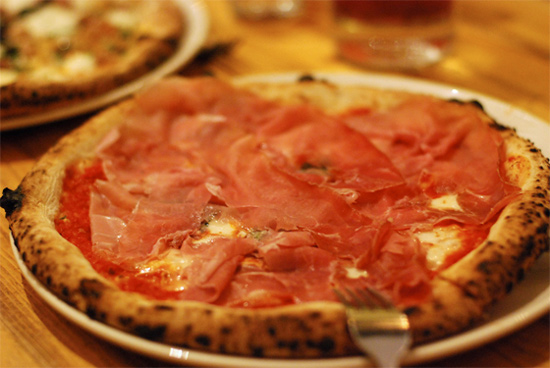 Pizza Libretto doesn't take reservations. What they do do is make some of the most delicious Neopolitan style pizza in the city. Libretto finds themselves smack in the middle of the (for the moment) uber-trendy Ossington strip of hipster bars, restaurants and galleries in the west end of downtown Toronto. As a result, demand for a table on any Thursday, Friday or Saturday night vastly exceeds supply. Surely a "problem" that most restaurateurs would love to have. But, when you are hot you are hot, so how do you make the best of it when fortune favours you.
What they do is take your mobile phone number. Then they pack you and your party off to any of great many little bars/pubs next door and they tell you, "don't worry we'll call you when your table is ready".
The key insight is that in this day and age, the odds of at least one person of any dinner party will have a working cell phone on them is effectively 100%. As heard on some public radio program recently that similarly one of the big restaurant trends in New York city is to go reservation-less. The one restaurant operator quoted that without reservations turnover can increase by up to 30%. That's a huge change in the business model!
And you can see the effect at work at Pizza Libretto. On any weekend night, no available serving space goes unused for more than seconds. The restaurant keeps their queue full by filling up the bars next door (an arrangement that works well both ways).
I love this example because it shows what's possible when a technology becomes so ubiquitous that you just switch off an old way of doing business. Using only the "phone" feature is the dumb-simplest way imaginable of leveraging the wonders of mobile technology. But in this case it's genius.
Oftentimes the biggest impacts of a new technology occur only once we can take it for granted. This is on e reason why issues like universal access to connectivity and the accessibility of mobile is important. If simple mobile phone calls can be so transformative for an ordinary business, imagine what business model innovation may be possible in a few years if we can safely assume that just about everyone is equipped with a much more richly interactive smartphone.
ps. If you have other examples of mobile tech already changing old business models, let me know. I'd love to hear 'em.
pps. Pizza Libretto's owners Rocco Agostino, Max Rimaldi and Daniel Clarke just opened up a new place around the corner called Enoteca featuring slow-food style Italian cooking. Enoteca does not take reservations.
photo credit: Qin