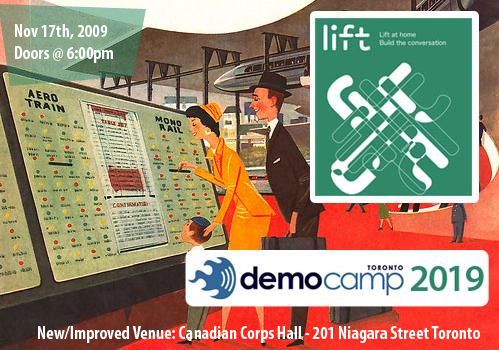 NEW VENUE: The Canadian Corps Association Hall
201 Niagara Street, Toronto, ON [pics]
Got a couple of big update announcements for you regarding Lift@Home Toronto happening on Nov 17th. The first being that we have finalized our speakers list. We have an awesome roster future-minded designers who have bravely stepped up to impress you with Demos from the year 2019. On top of which we're super excited to announce our special guest for the evening Scott Smith Futurist, Technology Forecaster and fellow Lifter.
The other important news is that we've had a venue change. We are no longer at the Drake. Sticking true to the theme of "epic time-warp", we have shifted the venue to the Canadian Corps Association, that's on Niagara street just south of King and a couple blocks west of Bathurst. This venue has a certain special flavor of character which you may remember from recent Spacing parties and/or for their almost-inordinately generous beer prices. Prepare to be transported to a retro-Swiss-conference-disco-chalet from the future.
Presenters for Lift Presentations @ Toronto
Special Guest: Scott Smith @changeist
Founder of the excellent Changist the design research and human foresight consultancy based in North Carolina.
2019 Demo Presenters:
Matthew Milan @mmilan Partner & Design Director at Normative
Leila Boujnane @leilaboujnane Founder & CEO Idée
Ann Poochareon @miserychick Maker of interactive stuff, Director Aesthetec
Jonathan Laba @J_LabIntern, Brightspark
Anatoliy Kats in/anatoliykats Grad Student, UofT
Sabaa Quao @xsabaa VP Strategy, The Hive
Matthew Lincez & Ricky Thomas WEREPIDEAS
Click here for the complete twitter list of Lift@Home Toronto presenters
More Announcements!
Special Guest Retro-DJ from the Future: Duarte Da Silva @modernmod =)
Food: Presentations will be followed Music, "networking", delicious Swiss-themed nourishment, and bar service. Though you may also want to grab a quick bite on your way.
Volunteers: We need some! to help with setup and the door and sundry. 5 volunteer tickets have been added to the guestlist app. These tickets of course come with free admission – thanks for your help!
Wireless Sponsor for Lift@home: