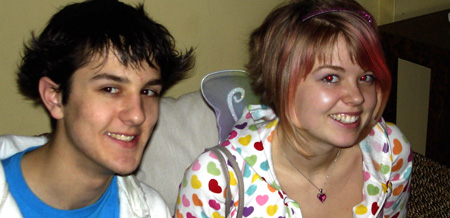 The Two Mind behind New Mind Space
With 168 pre-registrants this could be the biggest Camp we've had yet. Kudo's to Eli for putting together another great event. Here's my notes and meandering editorializations on the evening.
1) Parent Blogging in Toronto, MommyBlogsToronto
Catherine Connor
Evening started off a little slow for me but then I'm not a parent myself. She talked about growing a network of blogs around parenting in Toronto. Catherine did raise some interesting points however of a balancing authority and the trust of your audience with any direct means of monetizing your traffic. My response to this is, if you want to make money, let the opportunities come because of your blogging not through it. Ad networks are for nickels and dimes. The trust and professional/personal/social connections you build through your blog is more valuable can best be leveraged in to much bigger things (in or out of the blogosphere).
2) Urban Capture the Flag in Toronto, Newmindspace
Kevin Bracken & Lori Kufner
Damnit, these kids are all right. While urban capture the flag may have been tried before, but not with the flare and the enormous popularity of the New Mindspace. All without ever getting a single permit. If you are one of the few on the internet who haven't seen the video, go check it out here.
3) The C02 Black Cloud, WWF-Canada
Tara Wood & Eli Singer
This was a true social media case study, showing what you can do with tools like liveblogging, flickr and youtube (and a little help from the New Minds crew) to build a snowball of buzz and media attention over the course of the day of an event. Cool stuff, check out the website and the flickr photos for more.
4) Embracing the Membership, Zipcar
Saul Colt
An engaging presentation by Saul. Great to see how with little budget and a lot of personality this one-man marketing machine has been able to build impressive brand awareness and loyalty for the ZipCar service. Autoshare was also in attendance and I was keen to suggest a Rebel Without a Cause-esque road-racer showdown to settle this rivalry once an for all. Sadly though, they seem to get along charmingly as it is.
Lastly, be sure to check out CaseCampJobs! http://jobs.casecamp.org/
And next week is World Class DemoCamp It's going to be big.