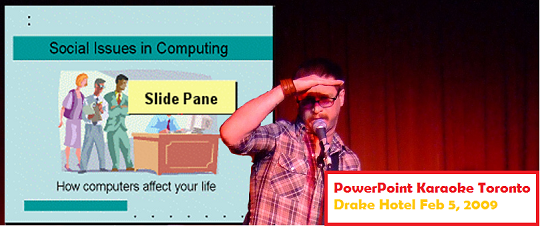 This Friday, my good friend Jay Goldman and I are organizing Toronto's first PowerPoint Karaoke event. It's going to be awesome. From the official description:
The Stage is Yours, the Slides Aren't

PowerPoint Karaoke brings presentations from the conference room to the karaoke stage in an entertaining and competitive event. In PowerPoint Karaoke, contestants deliver PowerPoint presentations in a karaoke-styled venue. But there's a twist: Presenters see the randomly chosen slides for the first time when they're presenting. Presentations are on the clock and off the cuff.

PowerPoint Karaoke was invented in 2005 when a group of German artists combined Schadenfreude with Stagenfrighte to create an underground sensation that has since swept the world.
For your entertainment, 8 fearless speakers will be pitting their wits against decks of diabolically out of context slideware to tell you about important topics of our times. Presentations are 5 min each. We'll have two heats of 4 presentations with the winners facing off for a final showdown. There may be fabulous prizes like a free beer (they'll need it) or an ironic trophy. At least that is the plan so far.
This event is happening as culmination of the Toronto's Participation in World Socical Media Week. We'll also be pooling revenues from this event with the (sold out) CaseCamp Toronto this week for donation to Sick Kids Hospital (details).
After the tweets were out the bag last week, PowerPoint Karaoke is now almost sold-out as well. But I just put up another block of free tickets, well "free" with a $25 or more donation to sick kids.
LINK:Get your tickets for PowerPoint Karaoke Toronto here
UPDATE 1
PowerPoint Karaoke is SOLD OUT. And so far, you have raised $800 for the CaseCamp Sick Kids CCU Project – you guys rock!
UPDATE 2
Thanks to the awesome folks at Microsoft Office Canada ( @MSOfficeCanada on twitter) and to Crumpler.ca for donating the grand prizes for tonight's event.
Here is the presenter lineup. Doors open at 8, presentations at 8:30pm sharp:

Heat 1	
Bretton	MacLean
Rachael	Segal
Satish	Kanwar
Alain	Lepofsky 
	
Heat 2	
Liz	Radzick
Misha 	Glouberman
JonathanLaba
Saul 	Colt

Finals:
?? vs ??