"the much-anticipated iPod touch with WiFi, Safari, and a touch-screen interface—an iPhone without the phone and e-mail capabilities—for $299 and $399. The iPod touch will be able to purchase music directly from the iTunes Store via WiFi. Apple also had a major bit of news with regards to the iPhone, dropping the price for the 8GB model by $200 to $399 and eliminating the 4GB model altogether. "
–ars
The new ipod comes with a big touch screen and wifi and full safari web browser.
The iphone with a big kick in the nuts to anyone who shelled out $600 for it weeks ago, just dropped in price by a huge $200.*
Those two products are going to move a lot of units (and also spur further competition). Expect also European, and Asia Pacific (and finally?) Canadian operators to come online with iPhone sometime starting early in 2008, probably just as soon as apple can shoehorn in proper mobile broadband (HSDPA, EVDO etc.) into the device.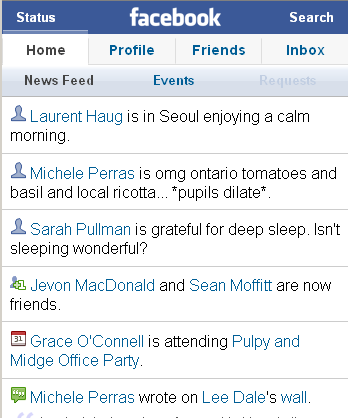 Jobs also demoed the facebook on the iphone, so the desktop web is definitely going mobile fast. (and it's not using -shudder- WAP, very much sms or downloaded client apps).
So I'm leaning towards thinking that the killer mobile platform may well be… the web browser not to mention bog-standard Web2.0 social webapps. You can run iphone facebook in a regular browser too.
You just know the google phone will be browser centric.
Imagine that the horrible fractured state of mobile software development could be solved by something as simple as: a half decent web browser.
Feeding this trend: Watch for the convergence of Telcos offering roaming wifi hotspot + cell network plans.
*somewhat mollified by Jobsing fobbing off of $100 store credits to past purchasers hastily announced earlier today.